RTÉ and Bord Bia Bloom team up for #BloomWithRTE
---
This coming Bank Holiday Sunday (May 31) RTÉ is teaming up with Bord Bia Bloom to get the nation blooming. This year, instead of welcoming visitors to the festival in the Phoenix Park, RTÉ is inviting everyone to get involved in #BloomWithRTE from their homes and gardens.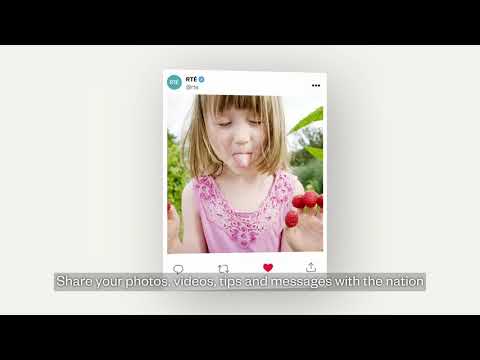 RTÉ has, for many years, been at the core of the entertainment, fun and colour of the Bord Bia Bloom experience. This year, we're calling on the nation to share colourful photos of your gardens – of all shapes and sizes – as well as your balconies, patio gardens, prized house plants and even wonderful windowsills. You can post photos or fun videos capturing the variety of ways you're enjoying your garden spaces all around the country. Using the tag #BloomWithRTE, the initiative will celebrate everything from great examples of community spirit, nature-friendly spaces, and your own passion for planting.
#BloomWithRTE is for experienced gardening enthusiasts, for those picking up a gardening fork for the first time, and for those who, particularly at present, love their garden space in whatever unique way it exists.
On May 31 all posts on social media platforms (Facebook, Instagram and Twitter) using #BloomwithRTE will be in with the chance of winning some great prizes, with thanks to Bord Bia Bloom, as well as the opportunity to wow the nation by featuring on the RTÉ accounts – there's also a chance your pictures could appear on live RTÉ Weather bulletins on the day!
The prize-winning ingredients are fun, colour, effort and community spirit.
For more on #BloomWithRTE keep an eye on the RTÉ social media accounts (Facebook /ExploreRTE | Instagram @exploreRTE | Twitter @RTE) or go to www.rte.ie/Lifestyle. You can also follow @BordBiaBloom on Facebook, Instagram & Twitter.
Meanwhile, as part of Bloom at Home (part of Gov.ie's #InThisTogether campaign) Bord Bia Bloom social media channels will feature a series of online events, including gardening tips and talks, and cookery demonstrations from some of the festival's long-time participants, bringing a flavour of Ireland's largest gardening and lifestyle festival into people's homes this June Bank Holiday weekend.